16 Fun things to do while you are staycationing at Marina Island Pangkor Resort & Hotel
Get ready for a fantastic adventure at Marina Island Pangkor! Experience the beauty of nature, exciting activities and friendly Malaysian hospitality.
In just 3 minutes, you can reach the beautiful Teluk Batik beach for sunbathing and swimming in the clear waters.
In just 5 minutes you can reach Lumut, a lively town known for its local charm and delicious street food.
And in just 10 minutes, you can take a ferry to Pulau Pangkor, a stunning island full of tropical beauty and fascinating culture.
Look forward to an unforgettable getaway full of excitement and discovery!
Here are 16 incredible things to do at Marina Island Pangkor Resort & Hotel that will make your trip truly unforgettable:
After checking into your hotel, there are some exciting things you can do to start your Marina Island Pangkor experience:
1. Frenzy WaterPark
Marina Island Pangkor Resort & Hotel offers fantastic opportunities for water sports enthusiasts and outdoor lovers, with kayaking and paddle boating at the top of the list. Suitable for all ages, these activities involve paddling a small boat through the water. This allows you to embrace the beauty of Marina Island's tranquil surroundings while having an exciting adventure.
Opening Hours:
Monday, Wednesday, Thursday, Friday
5.00PM to 7.30PM
Saturday & Sunday
Morning session: 8:30AM – 12.30PM
Evening session: 5:00PM – 7.30PM
Contact: 016-559 5800 / 010-546 8611 (Mr Arifun)
Google map : https://goo.gl/maps/THFQzzBfMaqkymK27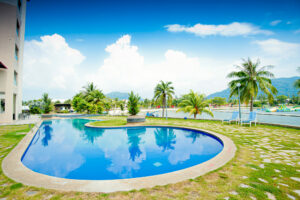 2. Take a dip in the swimming pools
After your water sports, take a break and cool off in the swimming pools. Whether you want to swim or just relax by the pool, it's a great way to unwind and enjoy the island's atmosphere.
3. Giant Grouper Fish Feeding
A special experience is the feeding of giant groupers, where guests can interact with these impressive animals, as Marina Island is home to some of the largest and most famous groupers, which are up to 1.5 metres long and weigh over 100 kilogrammes. Get up close to these incredible creatures and experience their size and strength first hand.
Contact: 010-373 3615 (Mr Jefri)
4. Pebble Walk
Take a leisurely walk along the lagoon near the hotel and enjoy the beautiful views. Feel the smooth pebbles under your feet as you take in the peaceful surroundings of the hotel. Along the way are pebbles of various sizes and shapes designed to enhance well-being by gently massaging pressure points on your feet – with or without socks.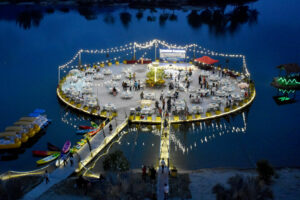 5. Floating Carousel
Experience the pride of Marina Island Pangkor with it's picturesque floating stage. Enjoy ultimate relaxation, entertainment and fun on this unique stage set amidst the starry skies. With its luxurious 360-degree view, you can also experience the breathtaking sunset surrounded by the mesmerising beauty of the surroundings.
6. View of the Sunset
When you stay at Marina Island Pangkor Resort & Hotel, you can treat yourself to the breathtaking beauty of the sunset. Watch as the sun colours the sky with vibrant hues, creating a breathtaking spectacle that will leave you in awe. Don't miss the opportunity to witness the mesmerising sunset while surrounded by the tranquil atmosphere of the island.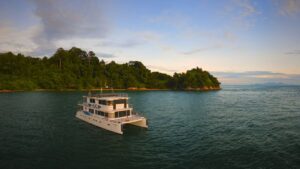 7. Lady Lilian The Dream Cruise
Experience the wonder of a breathtaking sunset aboard Lady Lillian – The Ocean Dream Cruise at Pangkor Marina Yacht Berthing! On our sunset cruise, you can unwind and enjoy the breathtaking views of the sea. With a luxurious boat and unforgettable scenery, this is an adventure not to be missed. Join us for a truly magical experience and create unforgettable memories on this incredible sunset cruise!
Contact : +60 12-373 9823 ( Mr. Richard )
8. OOTD at the Marina Jetty
Discover fantastic locations on Marina Island Pangkor to enhance your outfit of the day (OOTD) with vibrant and eye-catching Instagram-worthy locations. Located in and around the Marina Island Jetty Complex, these spots offer a variety of picturesque backdrops for scenery and selfie fans. So don't forget to bring your travel companions and loved ones for a memorable and exciting trip full of great moments.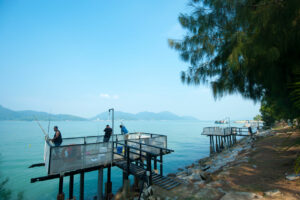 9. Fishing at Rockbund Fishing Chalet
Experience the joy of fishing at a hidden spot in Marina Island. This peaceful and serene place is a fishing enthusiast's paradise and offers a pleasant and tranquil environment. Don't worry if you don't have a fishing rod, as you can rent one at a reasonable price. Get ready for rewarding catches. For an added thrill, you can also try fishing on the open sea for an adventurous fishing experience.
Google map: https://goo.gl/maps/N8sPPwEvRzczQa5g6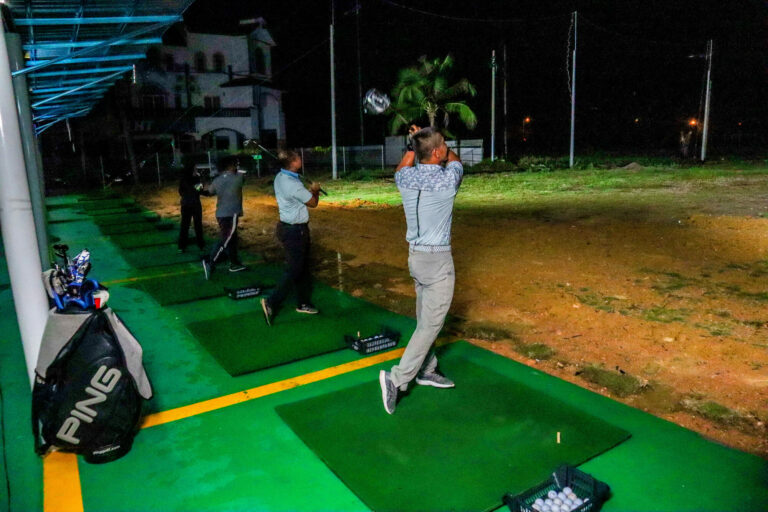 10. Practice golf at the Airon Golf Driving Range
Improve your golf game at the Airon Golf Driving Range. This spacious and well-maintained facility offers a relaxing and scenic setting to practice your swing and improve your skills. Whether you're a beginner or an experienced golfer, you can enjoy the sport and work on your technique here.
Opening Hours:
Tuesday – Saturday
3:30PM – 1:00AM
Closed on Monday
Contact: 013-923 3171 (Tuan Suria)
Google map: https://goo.gl/maps/QnS6TQi2aFbbY6Bs7
11. Beachfront Dining
Visit Hightime Café, a beach bistro and enjoy a moment of bliss. Relax with a beer or coffee and enjoy the view of the sea and the cool breeze. The delicious food served in generous portions at affordable prices makes it the perfect place to hang out with friends and family. You'll definitely love this spot!
Opening Hours: Everyday (4pm – 1am)
Contact: 05 – 683 3585
Google map: https://goo.gl/maps/aMykHxFjrfvY9n817
12. Coffee Paradise @ Marina Jetty
Marina Jetty no short of unique coffee shops to visit.  One of it is at Gemare Coffee Garden, where you can sample a variety of delicious beverages. From aromatic coffees to refreshing teas and other delicious drinks, there is something for everyone. Treat yourself to your favourite drink and enjoy the cosy atmosphere all around.
Opening Hours:
Monday – Friday
10:00AM – 7:00PM
Saturday – Sunday & PH, School Holiday
7:00AM – 7:00PM
13. Dining at Rockbund Cafe
Have the best experience at Rockbund Cafe in Marina Island Pangkor, where you can savour delicious and affordable western and local cuisine. Dine overlooking the beach and enjoy your meal under the stars while feeling the refreshing sea breeze. Whether with your loved ones or your closest friends, this beach café provides the perfect setting for unforgettable moments.
Opening Hours: Everyday (4.00pm – 10.30pm)
Contact: +6011 – 3513 3633
Google map: https://goo.gl/maps/dfSx1dtZ8gSiktbQ8
At Marina Island Pangkor, you can explore the world of local treasures and browse for unique items, trendy clothing and fresh seafood. Discover a wide range of local goods, including handicrafts and souvenirs that reflect the rich culture of the region.
14. Shop Local
Whether you're looking for clothing, accessories, souvenirs or other unique items, you'll find it all in one place at the Marina Jetty Complex. Get ready for a shopping adventure and discover something special at this vibrant complex.
15. Car Wash & Spa (Pro Cut Auto Detailing )
Whether you're arriving by car or staying at the resort, you can have your vehicle washed, waxed, polished, a body paint job, a complete interior cleaning, engine cleaning, restoration and detailing at a nearby Car Wash & Spa Services on the island. For prices and appointments, you can contact the company directly.
Operation hours: Wednesday – Monday 10am-8pm
Contact : 011-1023 1093 (Achmal)
Google location: https://goo.gl/maps/ZVXwZguW5he96dgd8
You can take a ferry from Marina Island Jetty to Pangkor Island in just 10 minutes.
16. Day Trip to Pangkor Island
Take a fast ferry from Marina Island Jetty Terminal, and in just 10 minutes you can reach Pangkor Island for an unforgettable day trip. Discover beautiful beaches, try delicious local dishes and experience the island's vibrant culture. A fantastic adventure you'll never forget.
Conveniently book your ferry ticket to Marina Island Pangkor online at https://www.pangkorferry.com/. Check the website for the latest schedule. Skip the queue, receive an e-ticket by email and simply scan the QR code before boarding to enjoy a hassle-free trip to the island.
In summary, Marina Island Pangkor Hotel & Resort offers a wide range of activities and experiences for its visitors to enjoy.
From exploring the beautiful beaches and practicing water sports to enjoying delicious seafood and discovering the local culture, there is something for everyone on this charming island.
Whether you're seeking relaxation or adventure, Marina Island Pangkor Hotel & Resort promises a memorable and diverse vacation destination.