China Press Perak (15 October 2021)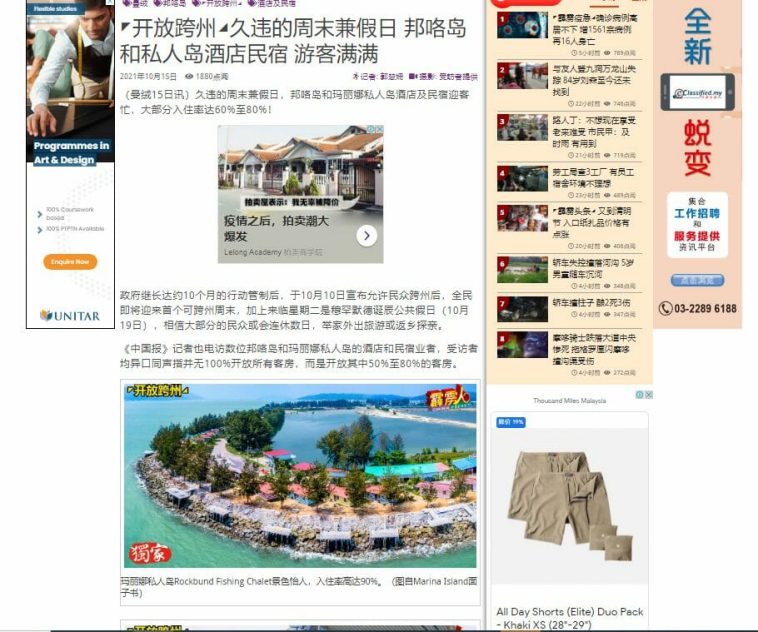 China Press Perak News Article (15th October 2021) – Following the lifting of the interstate travel ban, Pangkor Island, Marina Island Resort & Hotel and Homestays are welcoming guests where most of the accommodations are reaching 60%-80% occupancy.
In an interview, the Chief Executive Officer of Marina Island Pangkor, Ding Mei Looi said that Marina Island has two accommodation options; including Rockbund Fishing Chalet and Marina Island Pangkor Resort & Hotel. The Rockbund Fishing Chalet on Marina Island has a beautiful view and the occupancy rate is as high as 90%. While the occupancy rate of Marina Island Pangkor Resort & Hotel is about 70%. "We make good use of the MCO period to repair, beautify and upgrade the infrastructure of the island so that tourists can enjoy a better travel and accommodation experience."
..Tourism on Pangkor Island is gradually regaining its strength, and most hotels and guest houses have an occupancy rate of 60% to 80%. The majority of accommodation operators on Pangkor Island call on everyone to abide by the regulations specified by the National Security Council of Malaysia.
..Pan Silver Ferry Operator, Mr Beh Ah Kai said that the number of ferry services has increased to 9 trips from 15th Oct to 19th Oct to cope with the doubled number of tourists and alleviate the overcrowding of the terminal. Tourists now have to buy return tickets online…
Read the full story here:
http://perak.chinapress.com.my/?p=86924
==========================
Buy etickets to Pangkor NOW https://pangkorferry.com
Visit www.marinaislandpangkorresort.com for the latest deals and promotions.